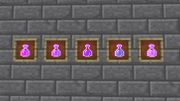 Epic Cola is a drink originally created by Chill57181 on Skogkatten to compete with Penstubal's Ice Cola. After the closure of Skog, it was mostly forgotten about, until it was revived on Memeworld. Their corporate headquarters is currently located in Billville.
Epic Cola (Instant Healing)
Epic Cola+ (Regeneration)
Epic Cola Cherry (Strength)
Epic Cola Clover (Luck)
Epic Cola Nether (Fire Resistance)
Epic Cola Spooky (Invisibility)
Epic Cola-splosion, a variety which could be thrown on the ground and cover nearby people in sticky cola causing Slowness also existed, but did not return on Memeworld.
Expired Epic Cola has also been circulated through the black market, which causes Nausea. However, it can be obtained legally from Bernie Sanders' Free Stuff-o-Matic, and some have sat too long in the Mario's Olde Style Pizza location in the Illuminati Kingdom.
Spooky Cola was developed by the Skeleton Empire after they took control of Billville and caused Speed. This was later rebranded as Epic Cola Spooky.
Ad blocker interference detected!
Wikia is a free-to-use site that makes money from advertising. We have a modified experience for viewers using ad blockers

Wikia is not accessible if you've made further modifications. Remove the custom ad blocker rule(s) and the page will load as expected.